The objective of any voluntary GHG project is to have actual intensity based reductions that cause a lowered Greenhouse Gas Emission profile due to an operational change or process that is demonstrably better than sectorial and site practice standards.
All projects must be able to demonstrate that the project is Additional, whereby the emissions from the project activity are lower than alternative or typical scenarios, careful consideration must be taken to ensure that registered projects can factually demonstrate that the "Emission Trajectory" of a project is better than the business as usual (BAU)approach.
A GHG "Trajectory"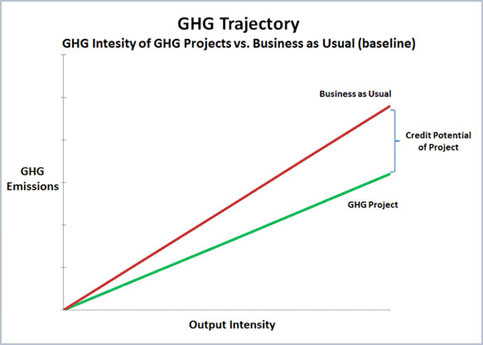 Assessing and documenting causality of emission reductions is a cornerstone to all GHG projects. Conservative consideration and selection of functionally equivalent baseline and project conditions is a key factor in developing GHG projects.
There are many methods that can be used to determine additionality, baseline conditions and functional equivalence for GHG Projects. Though the GHG Emissions Reductions Registry does not prescribe methods to be utilized, it is imperative that registered GHG Projects clearly identify the how the project has made reductions that would not been achieved under the Business As Usual (BAU) condition.